About Us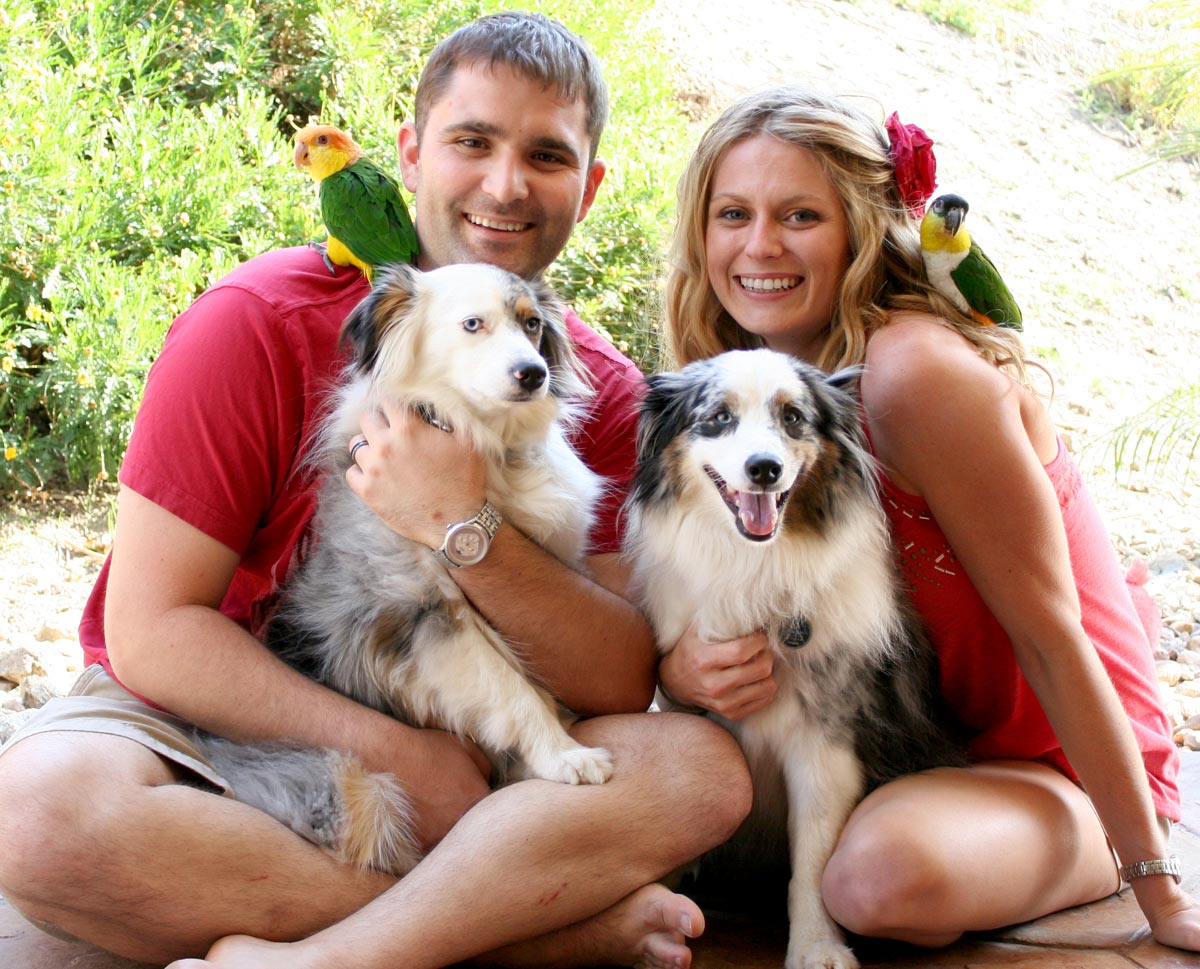 DoD Family, Shawn and Alisa Johnson with their dogs and parrots.
Dogs on Deployment was founded by husband and wife, Shawn and Alisa Johnson, who serve in the US Navy and US Marine Corps respectively. They started Dogs on Deployment in June 2011. As a dual-military family, the founders have been in situations where they needed a program like Dogs on Deployment. Alisa had orders to move to Quantico, Virginia where she was to attend six months of military training. At the same time, Shawn, was to be deployed. Neither could care for their beloved dog, JD. They were lucky enough to have family to rely on, but recognized the need for a program which would help others who found themselves in a similar situation. Thus, Dogs on Deployment was born.
Founders Alisa and Shawn Johnson proudly own two miniature Australian Shepherds, JD and Jersey, two Caique parrots, Kiki and ZoZo, and two rescue cats, Tegan and Jasper, who are the inspiration behind their work. They are also active fosters for Dogs on Deployment and local rescue groups, fostering seven dogs since 2009.
Read more about how Dogs on Deployment was founded.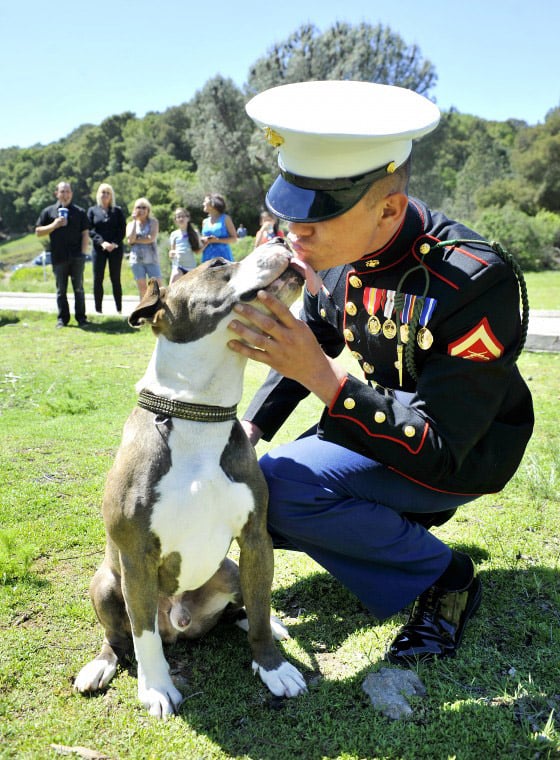 LCpl Jon Contreas reunited with his dog Diego, after an Afghanistan deployment.
Our mission is to give military members peace of mind concerning their pets during their service commitments by providing them with the ability to find people and resources able to help them.
Dogs on Deployment is a national 501(c)(3) non-profit providing a central network for military members to find volunteers willing to board their pets while they are deployed or have other service commitments, making them unable to temporarily care for their pets. No pet should ever be surrendered to a shelter due to a military commitment. DoD exists to help military members keep their pets by alleviating the need for pet relinquishment from military members due to the hardships of deployments.
Additionally, Dogs on Deployment promotes responsible, life-long pet ownership in the military community by:
Advocating for military pet owner rights on military installations
Providing educational resources for military members about responsible pet ownership
Granting financial assistance to military members for help with their pet's care during emergencies
Promoting healthy pet lifestyles, including spay and neuter, insurance options and vaccinations
Connecting with community organizations to ensure Dogs on Deployment resources are available to military families
Dogs on Deployment aids pets of all types that belong to active duty, reservists, guard, honorably discharged veterans and their families.
Our Goals
DoD aims at having DoD Boarders located near all major military bases in the United States. A military member should be able to find a DoD Boarder located within 50 miles, no matter what base they are stationed at or deploying from.
DoD will become a first resource for military members to turn to when they need long term boarding for their pets. This includes, but is not limited to, being recommended by military assistance organizations, base family support centers and animal shelters impacted by relinquished pets.
DoD plans to increase the rights and education that pet owners have while serving active duty in the military. This includes bringing light to the problem of pet relinquishment by military members to higher levels of the chain of command, and petitioning for annual, military-wide pet responsibility training. We want pets to be considered part of the family by military regulations, not disposable objects.
DoD will help promote the military-pet community by providing a database of partnered pet related businesses which support their troops through discount and incentive programs. Users will be able to search for local businesses which will provide them with affordable options for pet care.
DoD wants to help qualified military members with the cost of pet care during emergencies, and/or before and during deployments in order to promote responsible pet-ownership, providing financial assistance to get military pets spayed/neutered, vaccinated, microchipped and help with cost of pet care. This is known as our Pet Chit Program.