Board and Staff
Founding Members
President & Co-Founder
Captain Alisa Sieber-Johnson serves active duty in the United States Marine Corps. She is a Marine Corps aviator stationed in San Diego, CA. She lives with her husband, Shawn, daughter, Aveline, and six beloved pets. In her spare time, she runs Dogs on Deployment. She is passionate about animal welfare and rescue, promoting responsible pet ownership and the military-pet community and aiding service members in need. Her hobbies include reading, travel, interior design and enjoying good food.
Vice President & Co-Founder
Lieutenant Shawn Johnson recently left active duty service from the US Navy after ten years, and currently serves in the reserves. He was a helicopter pilot by trade, and presently works in online retail sales and marketing. In his spare time, he helps his wife, Alisa, in running Dogs on Deployment. His hobbies include working on his 1964 Jeep, culinary arts, and is a brew-enthusiast.
Board of Directors
General Counsel
Joseph Casas is the Owner and Chief Litigator of The Casas Law Firm, PC. He is a bilingual attorney and business advisor with a diverse background and experience founded upon his service as an infantryman in the U.S. Marine Corps and a J.A.G. officer in the U.S. Navy. Joseph's experience includes non-profit law and compliance and the defense and prosecution of complex matters including business disputes, personal injury matters, and the protecting the privacy rights of models and actors. Joseph also maintains an active military law practice. He has represented dozens of service members before courts-martial and administrative separation boards in some of the most complicated matters with tremendous success. When he's not practicing law, Joseph enjoys playing the trumpet, working out, and spending time with his wife Norma and his children Sebastian, Benjamin and Viviana. He also has his hands full with his two rambunctious boxers Riddick and Phoenix.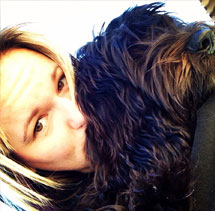 Social Media Director
Andrea Gal currently works as an architectural designer in San Diego, California. Previously Andrea worked as a web & communications associate for a national non-profit in Washington, D.C. As Social Media Directory for Dogs on Deployment, Andrea combines her previous experience in the graphics and web/social media communications fields with her love of animals to coordinate the web & social media presence of the organization. She also coordinates the web presence of the local chapters continuously springing up throughout the country. In her spare time Andrea can be found hiking in the mountains of San Diego with her white German Shepherd Jackson, enjoying the waves or snowboarding.
Chief Financial Officer
Liz Kington grew up in a Navy family, the daughter of a commander. She moved to San Diego in 2011, when her husband, a former Marine, was stationed at Camp Pendleton. Liz started with Dogs on Deployment back in April 2014 as the San Diego Coordinator and worked her way up to the West Coast Regional Coordinator for the past year. She has worked as a financial analyst for a variety of U.S. Naval Commands over the past 7 years and is bringing that knowledge and background to Dogs on Deployment. Liz is a dog lover, with two Siberian Huskies, Riggins and a recent rescue, Raven. When she is not working, volunteering at DoD, or hanging with her pups, she enjoys surfing, playing soccer and volleyball, and going for hikes.
Executive Director
Allison Mercer is a proud Navy Wife. She has worked in multiple aspects of the marketing field over the past 9 years, most recently managing all digital and social media needs for an advertising agency. Serving as the Marketing Director for Dogs on Deployment for over a year, Allison recently took on the role of Executive Director. Allison combines her previous experience in several forms of marketing and project management with her love of animals to help coordinate the organizations marketing, branding and social media needs. In her spare time Allison is a self-proclaimed foodie and loves to cook. She also enjoys travel and spending time with her husband, Joe, and dog Ted exploring Pensacola.
Public Relations Director
Corynn Myers manages digital marketing campaigns in southeast Michigan. She holds a master's degree in corporate communication and a bachelor's degree in public relations. Corynn's husband recently transitioned from active duty Army to the Michigan National Guard. Together, they have a three-year-old daughter named Riley and three fur-babies, Maximus, Leonidas and Cannoli Bear. Corynn enjoys advocating for animal rights, Netflix binges, outdoor activities, and being with family and friends.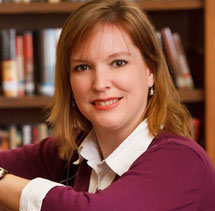 Board Member
Debbie Gaskell married into the Marine Corps family in 2013. Already the proud mama of one fur-baby, she welcomed two more into the mix (who had been fostered the year prior due to military commitments). Now, with over 16 years in the field of marketing and a deep desire to see all pets happy and healthy, her position as a Board Member allows her to combine her skills and her loves to advocate for a cause close to her heart. In her spare time, Debbie likes to practice her photography skills, spoil her dogs rotten, and she is even attempting to learn to play the violin! Debbie, her husband, and their three fur-babies currently reside in Norfolk, VA.
Board Member
Jennifer LaPlante manages the San Diego District for PetSmart with 15 stores. With a passion for pets, she has been in the pet specialty retail business for 13 years and in retail for nearly 20 years. With a Masters in Business Administration and emphasis in marketing she uses her skills to offer expertise from the business world of a Fortune 500 Company. As a Board Member, her focus is community involvement to raise awareness with the pet parents and associates she connects with every day to ensure no military pet is left behind. In her spare time she likes to spend time with her husband traveling to other countries and taking their 9 month old daughter on walks at the beach.
Honorary Board Member
Mrs. D'Arcy Neller serves as honorary board member. She is married to the U.S. Marine Corps Commandant, General Neller, highest ranking general in the Marines, and leader in the U.S. Department of Defense. Dogs have been a part of the Neller family household for the 40 years that Mrs. Neller has been a military spouse. She values the dogs' companionship, loyalty, and the joy they bring her every day, viewing them as a special part of the family. We welcome this wonderful woman and role model, who feels it's important for us all to get involved by proactively and wholeheartedly embracing our communities.
National Staff
Grant Management Director
Myra Smith is a licensed mental health therapist in Virginia with an Ed.S. and M.Ed. from the College of William and Mary. She has experience as a grant writer and has served on several grant review panels for private organizations as well as a state agency. She is the daughter of an Air Force veteran who served for 20 years. So she is very familiar with the dynamics of a military family lifestyle. She has one fur baby who she describes as a little walking heart who loves everyone. In her free time, she enjoys long walks, genealogy, and creating memories with her family and friends.
Fundraising Director
Karen White works in the veterinary field as a practice manager. She's the proud daughter of an Army veteran who served 20 years. Karen is very familiar with the movements of military life. As it was something she and her family never had to do, it's one of the main reasons she has for joining DoD; to ensure no service member need to relinquish ownership of their pet for service to their country. She lives in Maryland with her husband and 2 dogs, but has boarded for DoD and fostered for other organizations. She enjoys gardening, cooking and traveling.
Chief Editor and Blogger
Susan Nitka is a native New Yorker who just recently moved to North Carolina with her husband, Liam, and Lucy, their Jack Russell Terrier. She has worked as a marketing communications writer for over 15 years, and is especially fond of working with non-profit organizations, like Dogs on Deployment, whose work benefits the greater good. Currently, she is the online editor for our Military Pet Tails Blog. Susan loves and reveres animals of all sizes and shapes; she previously served as a zoo docent and veterinary assistant. Whenever possible, Susan advocates for humane education and animal advocacy issues. With Lucy in tote, she awaits new adventures, people, music, food – and yes, dogs -- in her new home state.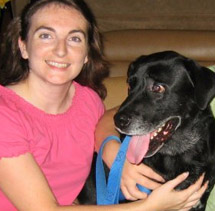 Personal Connection Director
Jayne Roupe is an elementary school teacher and?the spouse of a retired Naval officer. Her and her husband live in Colorado and enjoy an active lifestyle with?their adorable Labrador retriever, Kainalu. They understand the challenges military members and their families face and enjoy working with Dogs on Deployment to help ease some of those challenges for the men a nd women serving our country. Jayne assists Dogs on Deployment by being the personal voice behind our call center.