2017 Military Pet of the Year and Dogs on Deployment Mascot
Tanzie
Tanzie is an adorable three-year-old mixed-breed dog who has gone "from street to chic." Tanzie's early days were spent barely surviving on the war-torn streets of Sarajevo, referred to only as Tag 384, and one of many dogs known as Bosnia's Strays.
Today, Tanzie can be found in her loving, furever home in the United States, living side by side with her furry brother and sister, Benji and Bella, and her parents and rescuers, Katie and Walker Ward. Now that Tanzie is happy and safe from harm, she and her family run The Tanzie Project. (http://www.thetanzieproject.org/). The mission of this non-profit group is to find homes for as many of the forgotten and mistreated Bosnian street dogs as possible.
Tanzie's birthplace, Sarajevo, is where Katie Gar Ward, Technical Sergeant, United States Air Force, first saw the dog outside the installation where she was working. Sgt. Ward could identify to this dog as one of many local strays because of the tag marking on its ear. Animals from the street were periodically brought in by the Bosnian authorities to be given a rabies vaccine, spayed/neutered, tagged, documented, and returned to the streets. Sadly, it was the best outcome many dogs could hope for. Most of the stray population fared far worse.
Katie soon began to look for "puppy girl," as she affectionately nicknamed her, and when the dog surfaced, would reward her little furry friend with belly rubs, playtime, food, treats, and attention that the homeless dog so desired. Katie, who already had two dogs back in the States with husband Walker, knew she had to do more.
After careful consideration and deliberation, Sgt. Ward and her husband ultimately decided to bring Tanzie to the United States, and adopted her as their own. But first, Katie had to track down which veterinarian had tagged the dog and then obtain her vital paperwork. The vets in Bosnia removed the tag on Tanzie's ear a few days before she flew home to begin her new life in America, back on January 12, 2015.
While she was still working in Sarajevo, preparing to bring Tanzie to the U.S., Katie reached out to many organizations for help in finding the means to bring additional dogs back from Bosnia and Herzegovina. One such organization was The Puppy Rescue Mission, (http://www.puppyrescuemission.com/) a U.S-based animal welfare group, whom Katie described as her "shot-in-the-dark." Working together, they successfully rescued and sent nine Bosnian street dogs to the U.S., where all were eventually adopted into forever homes.
Building upon their successful efforts for Tanzie and these other dogs, the Wards were determined to help more dogs, and did just that. Initially, they began a Facebook page to raise funds to help buy food for Bosnia's strays. Soon, with assistance from The Puppy Rescue Mission, the Wards said, they "took a leap of faith and decided to make their efforts official," thereby turning their passion into purpose and establishing a 501c3 non-profit organization. The Tanzie Project was born. For more information, see http://www.thetanzieproject.org/.
Tanzie will have a busy year ahead as the ambassador for Dogs on Deployment, and our 2017 Military Pet of the Year. She excitedly looks forward to it, telling us that she "really appreciates getting to share how 'pawsitively' happy she is to be an American, … and as ambassador, she says, "I 'pawmise' I won't let you down – thanks, Dogs on Deployment!"
Visit Tanzie on her official Facebook page, https://www.facebook.com/thetanzieproject.
2016 Military Pet of the Year and DoD Mascot: Belle T634
Belle T364 began her life in service to her country, along side her handler, in the USMC. Belle was later adopted by his family in America, after she herself was diagnosed with PTSD. She spread education about MWDs vs. CWDs, and demonstrated the significance of dogs being reunited with their handlers post-retirement.

Read more about Belle!
2015 Military Pet of the Year and DoD Mascot: Leonidas
Leonidas is a special dog, rescued by an Army soldier while stationed in Afghanistan. Thanks to the help of a non-profit, Leonidas was brought back to America, where in 2015, he campaigned for Animal Rescue Awareness.

Read more about Leonidas!
2014 Military Pet of the Year and DoD Mascot: Midas
Midas is a boxer owned by a US Marine Corps combat-veteran and is a certified service dog. He was awarded the honor MPOTY in 2014. During his reign as DoD Mascot, he worked to raise awareness for the benefits of canine companionship for healing wounded veterans.

Read more about Midas!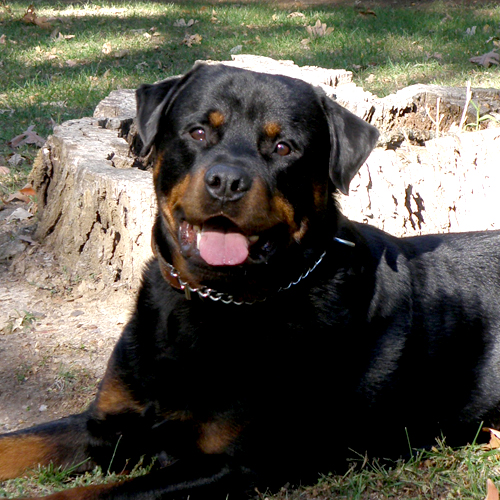 2013 Military Pet of the Year and DoD Mascot: Bram
Bram is a rottweiler owned by a US Air Force veteran and is an ambassador for his breed. He was awarded the honor MPOTY in 2013. During his reign as DoD Mascot, he worked to raise awareness for responsible training and advocacy for breed rights.

Read more about Bram!
2012 DoD Mascot: JD
JD is a miniature Australian Shepherd owned by the Dogs on Deployment founders, and is the inspiration behind their work. During DoD's first year, JD served as the DoD Mascot. Now, as the Chief Dog Officer (CDO), JD enjoys mentoring and helping other dogs inspire their owners!

Read more about JD!